Kosa Nishiyama Profile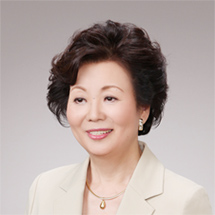 In 1972, Kosa Nishiyama began studying Sogetsu Ikebana and is now a Sogetsu first Grade RIJI Teacher , a Sogetsu Headquarters Master Instructor, a member of Ikebana International and a Fellow of the Nippon Ikebana Art Association.
Since 2010, Kosa has been teaching the Men's Executive Ikebana Class at Sogetsu headquarters.
In 1999, she hosted the first exhibition of "Seijo Flower Atelier", and has continued to celebrate her creativity and passion for Ikebana since then. Kosa designed the stage decoration at Oji Hall and held a solo exhibition at the Cera Trading Co., Ltd. Showroom. Kosa created arrangements in the vases of Yutaka Nakamura for his ceramic exhibition at Takashimaya and participated in the Hong Kong Flower Show 2017 as a demonstrator. Kosa Nishiyama is enjoying herself in the creative Ikebana world.
President of Ikebana school, "Seijo Flower Atelier".
Sogetsu Flower Works Awards
2006

Received Sogetsu Flower Works Award ― The third Exhibition of Seijo Flower Atelier: "Autumn Breeze".

2018

Received "Sogetsu Flower Works Award" ― The sixth Exhibition of "Seijo Flower Atelier" : "Wind of Anticipation".
Personal History
1972

Graduated from the Mathematics Department of Ochanomizu University. Began studying Sogetsu.

1975

Assigned as Managing Director at the Educational Research Center.